Welcome!
I welcome you to my website.
In its pages you will find information on my research work, my academic activities and my professional experience. There are also details on all my publications as well as electronic copies of them which you can download.
The content of the website is updated regularly with current information; I hope you will find it interesting. Enjoy surfing!
Nikos Platis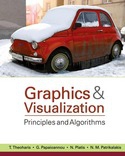 The book Graphics and Visualization, Principles and Algorithms (A K Peters, 2008) that I wrote with T. Theoharis, G. Papaioannou and N. Patrikalakis is an up-to-date textbook covering in detail the main areas of Computer Graphics as well as the basic algorithms of Data Visualization.
Find out more.